G² : Crypto Gaming
Fair, Fun, Fast
10,000,000,000 G²
Make sure to earn a whitelisted spot for access to the sale during the first four hours!
G² Crypto Gaming
G² is a new multidimensional ecosystem built around gaming, a diamond hold lottery ticket, and a staking pool. G² will be launching on the 2nd November @ 10am EST
- Unique crypto gaming running on top of the Telegram messaging platform
- Diamond hold lottery that has 50 winners per week
- Staking pool to provide long term stability, reflections and growth
- Partner services, allowing other projects to engage their communities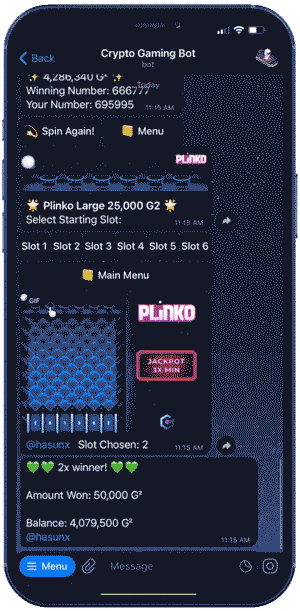 Crypto Telegram Gaming
Ease of Use
The Telegram platform has over 600 million active monthly users and is actively growing. It is also secure and anonymous creating the perfect platform for projects to build off of.
Fair, Fun, Fast
Everything about our gaming arcade is designed to be fair, fun, and fast. Secure deposits, quick withdraws, fun fast gaming, and a unique group gaming experience that you have to experience!
Rapidly Developing
With a team of ten we are able to continual improve and produce new fun exciting games! Two games will be available shortly after launch, we also have further prototypes and will release additional games monthly.
Diamond Hold Lottery
Diamond Hold
When you buy a Diamond Hold Lottery ticket it is for life, and we mean that! Turning paper hands into lifetime holders. G² Diamond Hold tickets give you access to 50 weekly lotteries!
Experienced Team
Based partly on the original highly successful Grouper G1 contract, G² Lotteries take it to the next level allowing token holders to buy multiple tickets from the same wallet address, no splitting of funds required!
Greater Winnings
Each week roughly 1% of the total supply is distributed out as lottery winnings. With weekly prize totals of 100,000,000 G² tokens, this is not your average crypto lottery. By combining a staking pool and games, the lotteries can be funded perpetually without the need for high volumes of taxes from trades.
Staking Pool
Continued Growth
Using a substantial staking pool, G² Crypto Gaming is able to provide long term growth to ensure the funding of the lottery and holder reflections.
Multiple Income Sources
The G² arcade provides and additional revenue stream to help grow the staking pool. As the staking pool grows compound interest will lift the base price floor of the underlying G² token.
Reflections & Compound Yields
Whilst the lottery fund is above 20% of the total tokens, 40% of the yield is paid in reflections to existing holders. 50% of returns are retained in the pool to grow further and provide compound returns, increasing reflections over time. The remaining 10% goes to the developer / marketing wallet.
Partner Arcades
Community Engagement
You provide the community, we provide the engagement. The G² ecosystem can be integrated into any BSC based token. Allowing seamless deposits and withdraws into the arcade platform and an income stream for projects.
Shared Profits
Tokens that partner with G² will be able to split any earned profits. Currently games are optimised to pay out over 90% of total tokens played. The remaining is split between G² and the partner token.
Growing Ecosystem
As the Telegram Arcade Partnerships expand, so will the G² Staking Pool! This will provide additional incentive for community members to hold for increased reflections and guaranteed Lottery pay outs!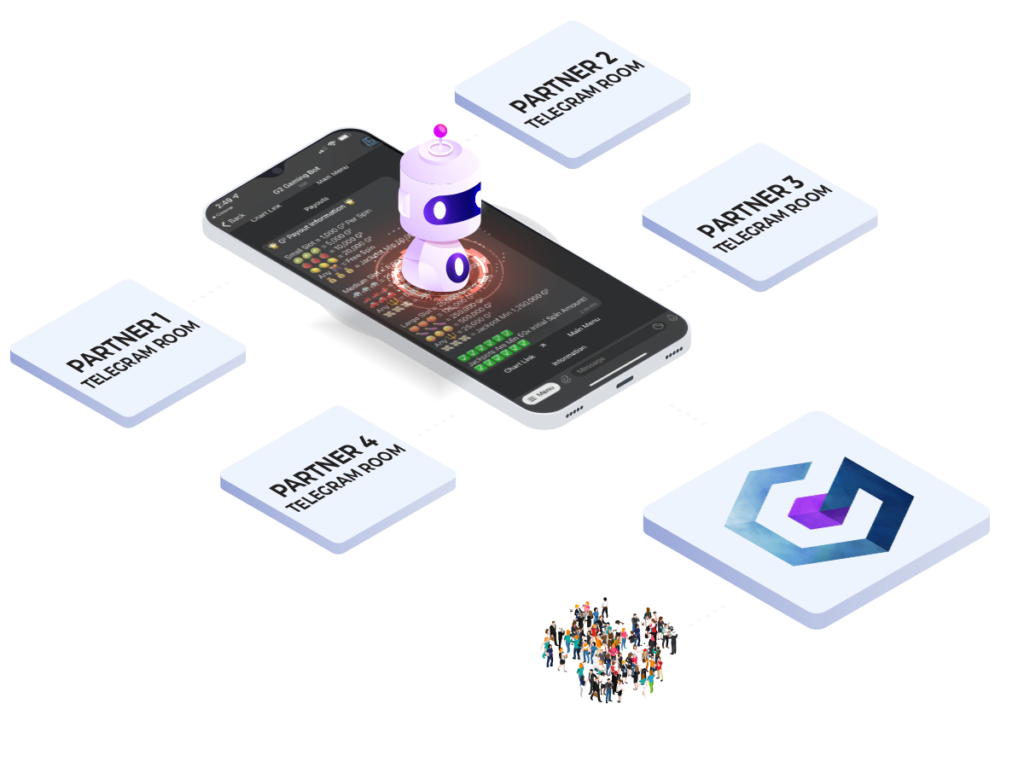 Roadmap
This timeline details our development goals.
Sept 2021

Marketing Blitz Begins

Establish White List for Presale

AMAs with Several Large Promotional Groups

Medium Articles (Project Overview)

Website Launch

New TG Channel Launch

New Twitter Launch

Oct 2021

Additional Medium Articles

Additional Marketing

Additional AMAs

Nov 2021

7-Day (or until HC is hit) Presale (2 Nov)

Live Video Chat with Team During Presale (2 Nov)

G² Launch (24 hours after Hard Cap hit)

Staking Pool Established (immediately on launch)

Lotteries Begin (immediately on launch)

G² Slots Go Live (16 Nov)

Dec 2021

"Wheel of Joe" Game Launch

Partner Arcade Program Launch

Additional Marketing

Additional AMAs

2022

Check the WP for the 2022 Roadmap!