G² Crypto Gaming
Diamond hold lottery tickets provide a perpetual entry to 50 prize draws a week with a 1000x Weekly Jackpot. Tickets will cost 25,500 G2 tokens at launch, which is equivalent to 0.05 BNB.
This article provides more detail on the diamond hold lottery and is the first in the series providing further depth on the G2 ecosystem. The next three instalments will explain the Telegram games and staking pool. The G2 token is being launched on the 2nd November @ 10am Eastern time.
Competition details have been released, enter our SweepWidget promotion to ensure you get a place on the whitelist and you could win one of 100 Diamond Hold Lottery Tickets.
Additionally we are offering 1 free ticket for each entry into the presale with a minimum purchase of 0.5 BNB
Lifetime Ticket
As the name suggests Diamond Hold Lottery tickets last a lifetime, they can neither be sold or transferred once purchased. No paper hands allowed!
The price of tickets will be set to 30,000 G2 tokens, which is the equivalent of 0.01 BNB. Once the price of G2 moves significantly the quantity of G2 tokens required for a ticket could be reset if the costs become prohibitive for new entries
Multiple Tickets per Wallet
Multiple tickets can be bought from the same wallet. A G2 Lottery token is issued and transferred to your wallet when you purchase a ticket, (the token can't be sold or transferred). The number of tokens in your wallet will represent the number of entries you have into each of the 50 draws each week. This was a key decision for the team as this mechanism simplifies holding tickets and ensures the number of tickets you hold is easily identifiable. The contract address will then clearly define how many tickets exist, therefore it is a simple process to calculate the odds of winning and quickly ape in and buy more tickets whilst the odds are low.
No need for splitting wallets and keeping track of multiple addresses!
Prizes
1 x weekly Jackpot of 30,000,000 G2 tokens (1000x)
7 x daily prizes of 5,000,000 G² tokens (200x)
42 x four hourly mini prizes of 850,000 G² tokens (30x)
*Total weekly pay out is roughly 1% total supply. Prizes are funded from purchase of tickets, G2 token sales tax, staking fund profits (when 777x wallet falls below 20%)
The value of the prize will change relative to Dollar and BNB as the G2 price increases. The Diamond Hold Lottery is supported by a wider ecosystem providing profit and supporting an increased value of the G2 token. A relative increase in the G2 price results in bigger dollar value of prizes
DYOR research but I would suggest getting in early! Low ticket entry price and the best odds multiply potential winning as the dollar ($) value of the prize increases!
How to Buy
Purchase from website
Telegram Gaming Bot (initiates Web3 connection)
Interact directly with contract
Enter presale with at least 0.5BNB to get 1 free ticket
Proceeds of ticket sales go directly to the lottery prize fund recycling tokens for prizes.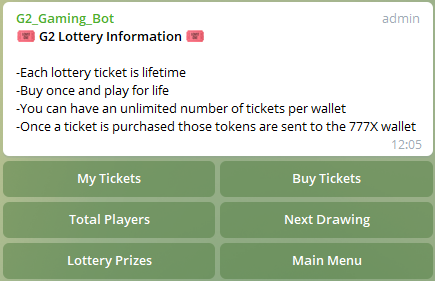 Further Information
Website: https://g2gaming.tech/
Telegram: https://t.me/g2_gaming
SweepWidget competition: https://sweepwidget.com/view/33887-mb8z15af