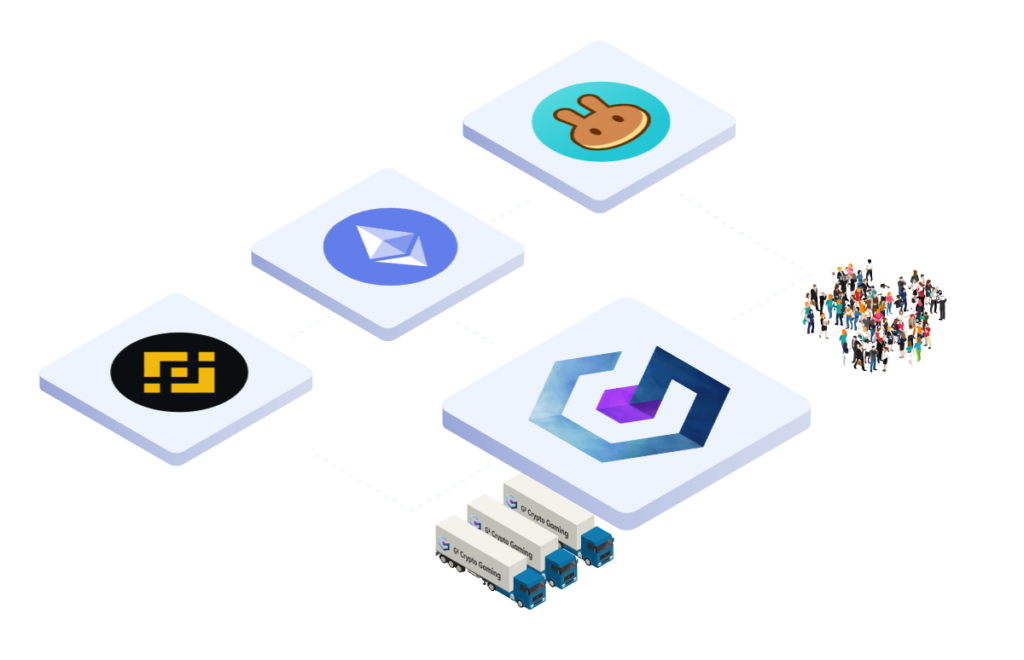 An innovative method that we designed and developed to provide the G² Crypto Gaming platform with a stable and long-lasting financial income, as well as a passive income for users who hold G² tokens in decentralized wallets, from which they are able to pay monthly bills and much more.
It is the place where G² token buy, sell, and transfer fees, as well as the Arcade Games and Partner Gaming Services profits, will be stored long term and compound through time. It is where the staking rewards will be automatically distributed back predominately to G² token holders wallets.
What Is DeFi & PancakeSwap Staking
DeFi or decentralized finance took the crypto world by storm in the summer of 2020. Not only did it open opportunities like lending and borrowing to everyone, but it also changed the staking game. Just like centralized staking, Decentralized Finance (DeFi) staking software enables users to earn interest on their crypto holdings. The DeFi staking platform uses smart contracts for managing the staking and distribution of rewards.
PancakeSwap staking provides rewards in return with a proportional amount of their share in the platform's trading fees, as well as liquidity provider tokens.
Initial Staking Plan

Following the launch of the project, G² Staking Pool will perform initial token staking within the Syrup pool on the PancakeSwap Platform, by purchasing CAKE tokens using a fund for that purpose, raised after presale.
The benefit of CAKE staking with the PancakeSwap platform is that the APY has been stable and safe for a long time, with a large volume and liquidity, as well as with the lowest rate of APY reduction compared to other staking tokens, which rarely any other platform can currently offer. Additionally, CAKE prices are performing well and further price increase benefits G² holders.
Staking Pool Revenue
At the time of writing White Paper v1.0, CAKE staking on PancakeSwap Syrup pool gives us an Annual Percentage Yield (APY) of about 95%.
The staking pool is expected to grow significantly and by leveraging higher quality projects we aim to generate yields of around 100% APY consistently over time, which means that after 5 years, compounding 50% Staking rewards, we can expect 32,000% Staking Pool gain.
Assuming other projects including games, lotteries and other concepts on the road map also double the size of the staking pool each year the pool is then capable of generating a return of 243,000% or 243x over 5 years.
Staking Risks & How We Plan to Avoid Them
Liquidity Risks: We will choose the liquid asset with high trading volume on the exchange for staking, which will help us to reduce the liquidity risk.
Volatility Risk: We believe in a bright long-term Bitcoin forecast. In order to maximize the staking potential, we will perform staking with coins that have a long and stable price history, as well as a promising future projection.
Lockup Periods: We will choose staking platforms and coins without a lockup period to avoid the risk.
Counterparty Risk: In order to minimize this risk, we will work only with the best and world-renowned staking platforms.
Future Staking Plans
One of our top goals is that with the growth of the Staking Pool, in addition to staking on the Syrup pool, to distribute the staking portfolio to other Binance Smart Chain platforms and blockchain networks, such as Ethereum 2.0, when transaction costs are reduced, which will have similar or larger APY than CAKE and which meet all the above risk assessment criteria.